Three Southeast quad clubs share $541 850
MONCTON (GNB) – The provincial and federal governments on Friday February the 18th, announced $3.5 million for 19 infrastructure projects in southeastern New Brunswick. Among those projects, we have the United ATV Club and Dieppe ATV Club. In July 2021, the ATV Country Wheeler's grant was announced. The three will benefit of a total amount of over a half of a million dollars.
ATV Country Wheelers: $170 928 were used to build the G. Bourque Bridge over the Scoudouc River for a total cost of $325 000;
United ATV Club: $94 922 will be used to replace the McBass bridge that has reached its end of life. The construction is planned for this summer. This bridge has a multiuse purpose;
Dieppe ATV Club: $276 000 to build a trail head near Lakeburn and the improvement of trail access to services and surrounding communities. The construction is planned to begin early this spring.
"We are pleased that the Canada Community-Building Fund is helping us to foster a healthy environment and sustainable communities throughout our province," said Local Government and Local Governance Minister Daniel Allain. "This funding is vital to maintaining and improving our infrastructure in a strategic way and based on the unique needs of each region and community."
"Investments in infrastructure help strengthen the fabric of our communities," said federal Intergovernmental Affairs, Infrastructure and Communities Minister Dominic LeBlanc. "Whether it is upgrading a recreational facility or renovating a community hall, the investments our government is making will strengthen local economies and improve the quality of life of New Brunswickers all across the province, ensuring that families and businesses can prosper."
Jacques Poirier, QuadNB General Manager, is delighted by this announcement which is the first of this importance since the beginning of the New-Brunswick All-Terrain Vehicle Federation. "The investments announced today are good news for both QuadNB and the beneficiary clubs. At QuadNB, we are happy to have both provincial and federal support so we can continue to develop quad trails through our beautiful province", reported Mr. Poirier.
The financing will allow to build two major bridges and trail heads where the quad enthusiasts will have access to their vehicles and trailers and from there head for a ride with their quad. "For us at QuadNB, the goal is to see in a near future a safe provincial trail for our members and tourists that will link all our clubs together and have an exceptional tourism product for the quad enthusiasts", concludes QuadNB General Manager.
___________________________________________________________________________________
Ministers' quotes: taken from GNB press release
Contacts:
Jacques Poirier, General Manager QuadNB 1-506-472-5130
Eymard Savoie, Acting President QuadNB 1-506-776-5398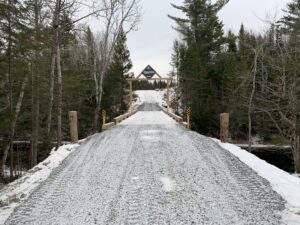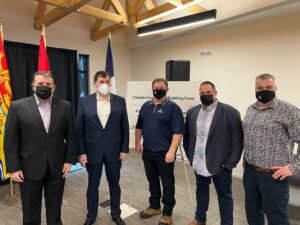 Photo 1, photo of G. Bourque Bridge. Photo 2, from left to right: Daniel Alain, Minister of Environment and Local government, Dominic LeBlanc, federal Minister of Intergovernmental Affairs, INfrastructure and Communities, Jacques Poirier, QuadNB General Manager, René Savoie, Dieppe ATV Club President and Marc Desgagné, project member.