The NB ATV Federation held its Annual General Meeting on April 22 & April 23, where more than 100 delegates gathered for this 2-day event. The convention presented at the Crowne Plaza in Moncton, began with a day of information workshops on Saturday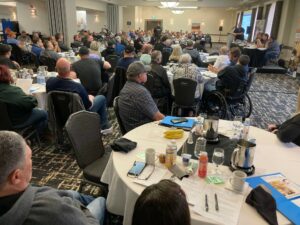 .During these information workshops, representatives from the Off-Road Vehicle Enforcement Unit, a representative of J.D. Irving, Robert Fawcett, the Minister of Local Government and Local Governance Reform, Honorable Daniel Allain, members of the trail signage committee, and the ambassadors of QuadNB from Trekkit TV, were all there to speak to our delegates and answer questions.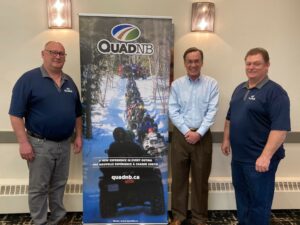 The quad industry would not develop without the contribution of private property owners. J.D. Irving is QuadNB's most important partner in this vital area, providing access to over 800 km of managed trails across the province.  (In the photo, from left to right, our President Eymard Savoie, Robert Fawcett of JDI, and our General Manager, Jacques Poirier.)
In light of the discussions and feedback, 2022 has been QuadNB's most prolific year and has resulted in a slew of projects; among other things, 12 projects for the construction of bridges and culvert installations, improvements to quad trails, and not to mention the construction of trailheads throughout the province.
However, despite the successes seen in 2022, 2023 will not be left out for QuadNB. Minister Daniel Allain announced the financing of other trailheads and the management of QuadNB is betting on the arrival of new financing programs which could support the efforts of development continuity of this 450-million-dollar industry in New Brunswick.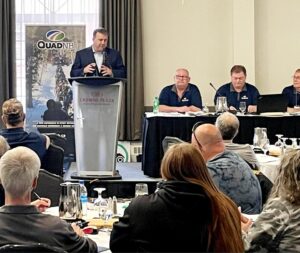 Minister Daniel Allain speaking to the delegates
Before the start of the Annual General Meeting on Sunday, the assembly welcomed the Minister of Natural Resources and Energy Development, Mike Holland who gave a brief speech. The Minister was quick to confirm his support for the ATV industry in New Brunswick and did not hide his enthusiasm and motivation for our organization.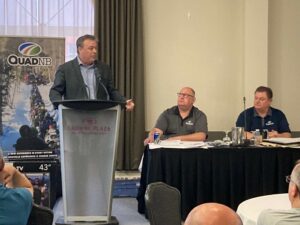 During his speech, President Eymard Savoie did not hesitate to praise the merits of club volunteers, because, without them, there would be no federation or quad industry. He also underlined the involvement of the three levels of government and said he was delighted to see that all the governments now see us in a new positive light. All of this bodes well for the 25th-anniversary celebrations which will begin after December 10, 2023, and will continue throughout the following year.