TRAIL CLOSURE / MILITARY TRAINING ADVISORY - GAGETOWN ATV CLUB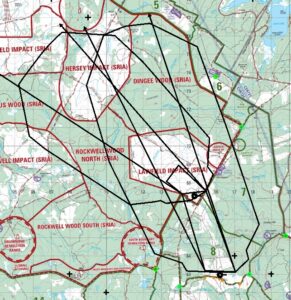 Please abide by the rules and check in with Range Control at all times. This is for your safety. Just so everyone knows the black outline is the bullet Ricochet area.  This is the area that you do not want to be in. We ask that you stay away from that area during the upcoming training.
Ensure your friends are aware of the following upcoming activity:
RCD (Royal Canadian Dragoons) Level 3
Dates: October 29 & 30, 2022
November 1, 3, 5, 6 2022
Sentry and barriers will be in place.
If you have any concerns or questions, please let us know.
Ride Safe!!!
Wolfgang Schroeder
Gagetown ATV CLUB Trail Coordinator